College Cost of Attendance Research From Professional Experts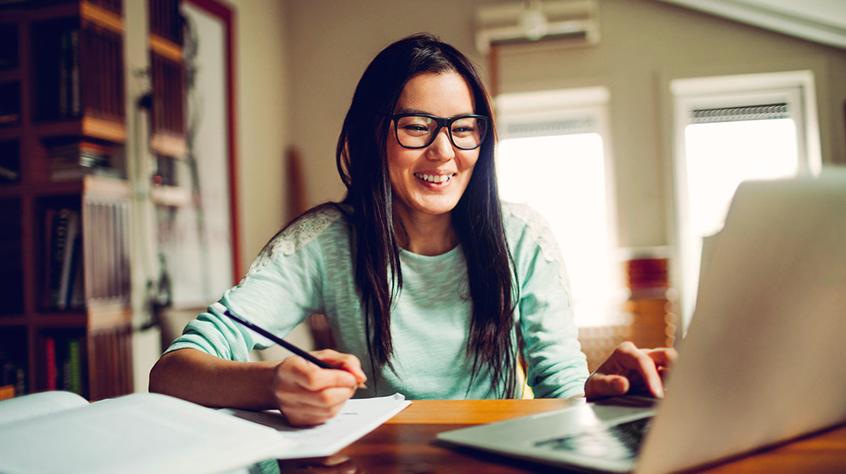 College cost of attendance research is a comprehensive analysis of what to expect when heading to college in terms of tuition fees and other types of charges. According to Statista, the average tuition fee increased to $36,880 in 2019 compared to $26,337 in 2010. These costs will continue to grow, and more and more students will have to face loans and debts.
In this college cost of attendance, research will give you all the necessary information to understand market changes and tendencies.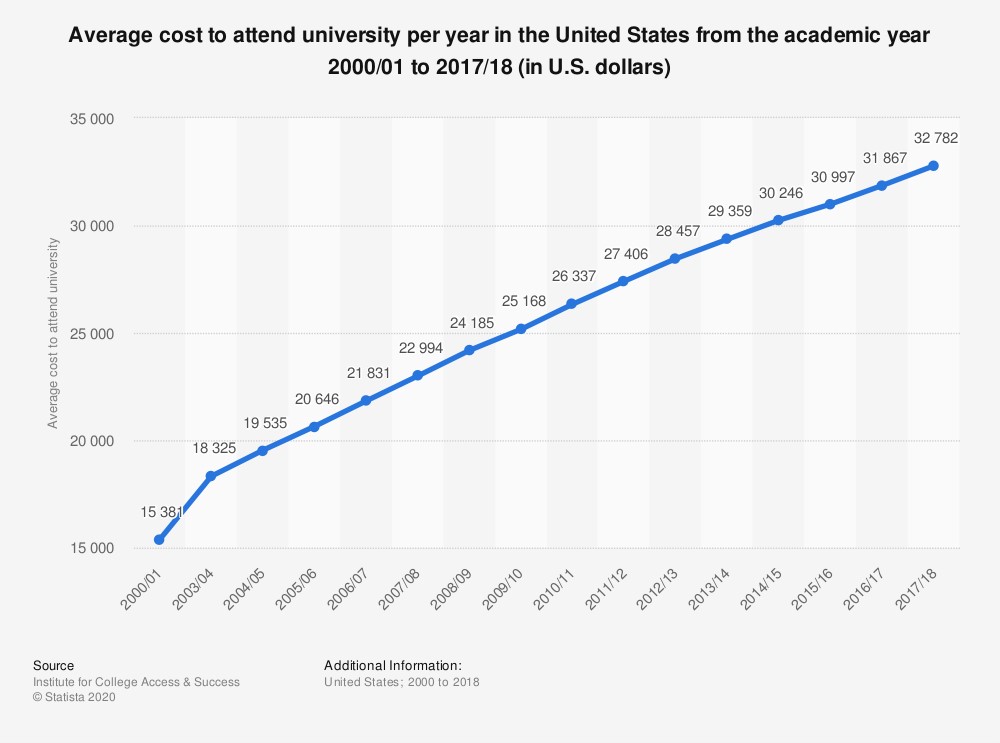 General statistics and related expenses
In order to understand how the tuition fees are formed in the US, it's necessary to consider a wide range of additional features. For example, in 2018-2019, according to Statista, there were almost 22 million students entering colleges and universities. This equals a bit more than 66% of all high school graduates.
However, there was a 1.3% decrease in 2019 compared to 208. And here are the main reasons why:
Stronger economy. Along with the unemployment rate decrease, lowers the number of college enrollments;
Increased prices. Fewer students can afford to go to college;
Demographic changes. Lower birth rate leads to fewer students;
Remote education. More and more colleges start online classes and courses to reach a bigger number of students and reduce tuition costs.
How many students will attend colleges
While there are no significant changes in the number of elementary and high school students, there are numerous shifts in higher education. Here is a comparison provided by the Digest of Education Statistics:
In 2020 there are almost 51,000 public and 5,827 private schools. As well as 16,896 postsecondary institutions;
In 2025 there will be 51,120 public and 5,910 private schools. The number of postsecondary institutions will increase to 17,108;
In 2028 it is expected to have 51,419 public and 5,96910 private schools. As well as 17,215 postsecondary institutions.
It is obvious that the number of graduates and schools don't influence the decrease in the number of enrolled scholars. The reasons are as follows: higher tuition fees, lower average income, and online education.
Tuition fees in relation to incomes
Based on the Center on Budget and Policy Priorities, tuition fees occupy more than 30% of income in seven US states. This leads to an increased number of households who have to use a loan. Moreover, the tuition costs have, on average increased by 37% (an equivalent of $2,708) for four years at college, which makes the sum almost unbearable for the majority of households.
College expenditures types
According to the HSBC survey that was conducted globally, on average, households spend around $99,400 on education. The same survey showed that over 60% of parents had to stop doing the hobbies to save money for education, and 85% of students have to work while studying with case study writing.
Here are the most common types of expenditures at college:
Tuition;
Food;
Materials and books;
Transport;
Money for leisure;
Insurance;
Dorm-related costs.
Average fees in 2019/2020
According to Statista, the tuition fees in 2019/2020 vary depending on the state. For example, for one year at a 4-year college, you'll have to pay on average $10,970 in the Midwest, $9,940 in the Southwest, and almost $14,000 in New England.
2-year college fees are a bit different: $5,700 in New England and twice less in the West. On average, students have to spend $99,400 on tuition fees plus over $80,000 spent by parents on related costs.
General statistics on average costs
In 2019/2020, an average college student had to pay $30,500 per year. This sum includes tuition fee, room, boarding, and other expenditures. However, the sum significantly varies depending on the state and institution.
For example, a 2-year public college costs around $13,000: $3,700 for tuition and the rest – for boarding and room. A 4-year college costs approximately $22,000 – $11,000 for tuition and the same for boarding and room. When entering private colleges, the prices reach $50,000 for 4-year institutions: $36,700 of which cover the tuition fee itself.
But let us not forget a regular growth in tuition fees: around $700 per year for 2-year colleges and $2,000 – for 4-year establishments. Fortunately, there are positive shifts in the industry because institutions give more financial help to students, and governments start contributing as well.
So what do you actually pay for?
It may sound surprising but students actually pay more for side expenses than for tuition itself. Here is the data from the HSBC research:
The tuition fees on average are $39,045;
Accommodation: $16,500;
Groceries: $9,000;
Utilities and bills: $7,200;
Eating outside: $4,000;
Academic materials: $3,490;
Clothes and makeup: $3,300;
Transport: $2,800:
Other costs: $4,000.
Average expenditures on tuition, room, and board in 2018/2019 and 2019/2020
In 2018/2019, the average tuition fee was $14,600, while in 2019/2020, there was a 3.4% growth. Here is a brief comparison of fees in these two years for four-year colleges:
2.3% increase for tuition and other fees ($10,440);
2.9% increased expenditures onboard and room ($11,510);
2.6% increase in overall fees ($550).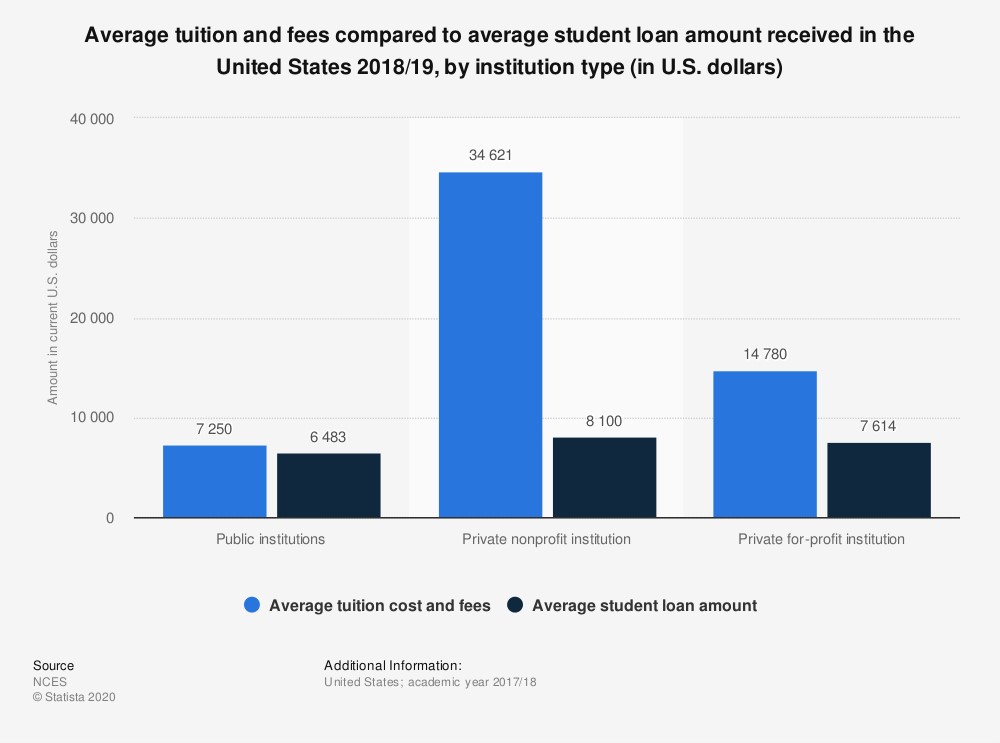 Costs in 2020/2021
Even though it is difficult to evaluate a concrete amount of money one may spend on education, it is still possible to make predictions. Let us take Yale University as an example. In 2020/2021, students will need to pay a total of $78,725:
$57,700 for tuition;
$9,750 for room;
$7,500 for boarding;
$3,700 for books and other materials.
Boarding and room
One of the biggest questions for students is whether to stay on campus or to rent an apartment elsewhere. You may be surprised, but based on Education Data research, 87% of students live outside campus. It may be more expensive to live on campus: in 2019/2020, students had to pay $11,510.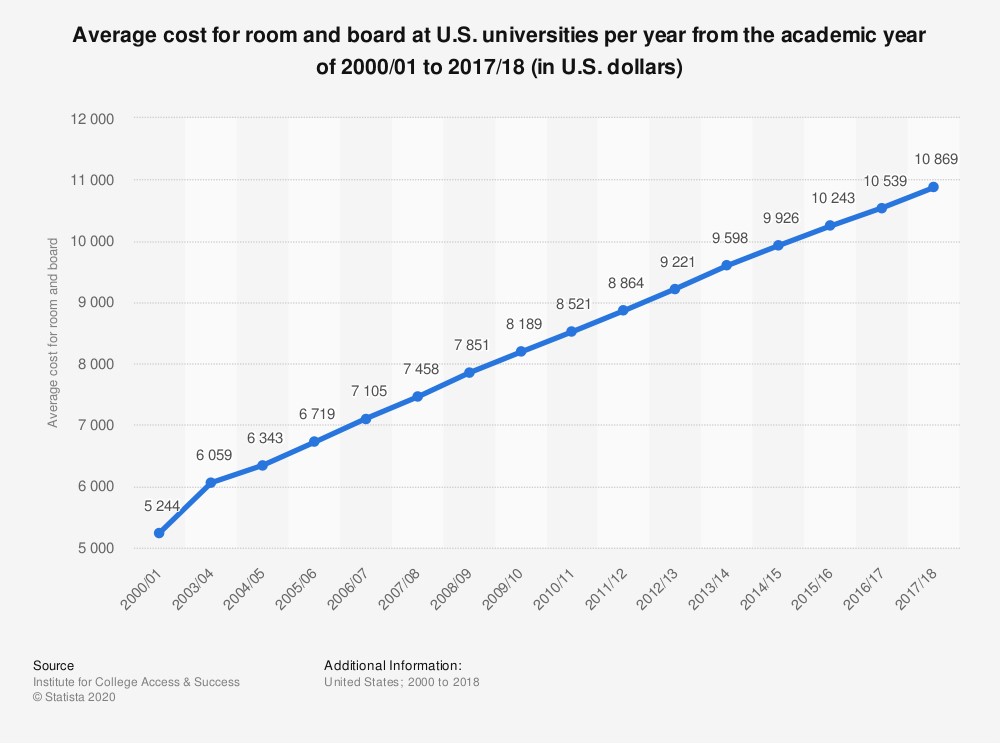 Comparison of room expenditures in US colleges
There is no better way to understand how the prices are formed than to take a look at examples of different colleges. Here are the prices for 2020/2021:
Blinn College. On-campus board price is $2,800 while in-district price is around $19,600;
Daemen College. Here you'll need to pay $13,860 for board and residence with a 19 Meal Plan;
Columbia College. For three semesters, students will need to pay $13,056, including room and board. However, transportation on average equals $4,200 and personal expenditures – almost $8,000;
Marist College. Room and boarding will cost students $16,400. Indirect expenses include transportation and books ($1,000 each);
Lycoming College. A standard room on campus costs $3,412 while a college apartment – $4,500. From 2020 students can also pay $72 a week for a May and Summer Room.
Here you can buy custom essays, research papers and case study.
Affordable options
Under the modern circumstances, many employees were left without jobs, so governments and educational establishments are trying to find a way to reduce tuition fees and give people opportunities to repurpose and remain competitive on the workforce market. Here are a few variants of the most affordable US colleges and universities:
Molloy College – $26,860;
SUNY College – $7,398 (in-state) or $17,050 (out-of-state);
East Carolina University – $6,140 (in-state) or $21,300 (out-of-state);
University of District of Columbia – $5,200 (in-state) or $11,200 (out-of-state).
Ways of reducing higher education expenditures
Even though the increase in tuition fees is quite gradual, it is still a big challenge for households. Taking into account the pandemic, inflation, and debts, students need to find a way how to make the tuition fee lower. We have made a list of the ways how you can obtain higher education and spend less:
Save money in advance. Nowadays, many students have a devoted account for college where parents and students can leave money for future tuition;
Take challenging courses. Turn to Advanced Placement courses and enroll in complex projects to earn credits for college;
Compare colleges. Take your time to visit several colleges, learn about their terms, and pick the most suitable one;
Don't be in a hurry. Choosing a college is an extremely serious step, so you need to remain calm and compare all the pros and cons before making a decision;
Turn for financial help. There are numerous programs, scholarships, and grants which may significantly reduce your tuition expenditures. Just find the one that fits you;
Be attentive to student loans, and only if you know that you'll be able to pay back.
Other less obvious but also useful tips may include living at home, purchasing used textbooks, and teaming up with classmates to improve your grades and earn more credits.
Trusted thesis writing service with 100% satisfaction guarantee!
Proper college budgeting
If you know anything about financial planning, it shouldn't be difficult to work on your college budget. With its help, you'll be able to plan and predict expenses without borrowing money. Here are a few things to consider:
Write everything down. Make a list of the tuition fee and other official expenses in the college. They should also include transportation, books, and meal plan;
Regular expenses. They include shopping, bills, clothing, holidays, and other expenditures;
Sum everything. You may be quite surprised to see the final amount. If it exceeds the budget, search for another college, or start searching for a job. It may include a part-time job, summer work, etc.;
Apply for college scholarships, awards, and grants;
Control your budget. When you have an approximate sum, start searching for various payment plans and analyzing which expenditures can be decreased.
College cost of attendance research: final thoughts
Even though this year was quite uncertain, college fees and prices are quite stable. Colleges and governments are working side by side to make education more affordable, especially considering that many households have lost a part of their incomes because of the pandemic.
Even though statistics help to evaluate the market and conduct a particular prognosis, in some cases, it's impossible to show a 100% clear picture. That is why you need to choose a college only after getting familiar with all of its expenses and requirements.
And you shouldn't forget about planning a college budget, turning to scholarships, and finding a way to earn money both during college years and summer holidays. No matter how challenging the process of gaining an education is, it's more than rewarding.